Introducing our storytelling images, Seasons of Life, plus StoryBook and StoryPAGE!
"Saving today's traditions and memories, for many tomorrows."
We are all part of a very big, important story - the one of our own lives and that of the people we love.
B. St.Pierre StoryBooks and StoryPage Portraits tell YOUR story - beautiful photo illustrations that are often described as being like paintings. They celebrate what it is you want to remember or be remembered for ... it's the story you wish to be told.
Many times, these portraits are celebrated as Season's of Life in theme, illustrating our passions and relationships at different stages of our lives, and they stand alone to tell a very beautiful story about your life in images for the walls of your home. Imagine framed art on display, where those you love are the subjects on the canvas!
Not cookie-cutter stories that we drop you, your family or child into, but YOUR story.
(A few examples of this could be of someone playing an instrument, or illustrating a skill, hobby or talent, or a group hiking or playing a board game, a child interacting with an adult, a person playing with a dog or cuddling a cat... does this get you thinking about what's right for you? We especially love to create those images of interaction between grand or great-grandchildren with grandparents, and adult children with their aging parents. These relationships are so important and the most overlooked when it comes to preserving them in portraits.)
StoryBook Sessions can include Bonnie St.Pierre writing a story to accompany the images she creates on set in her magical photography studio, or for you authors who are looking to publish, images can be custom created to the needs for the photo illustrations in the story book that YOU are writing.
Take a peek at the Studio and watch a brief intro about StoryBook Sessions: click here.
View videos of some of our B. St.Pierre StoryBooks!

Return HOME ~ Click to Skip remainder of Intro and go to Galleries ~ Contact us to start the discussion!
Continue to scroll this page to read more....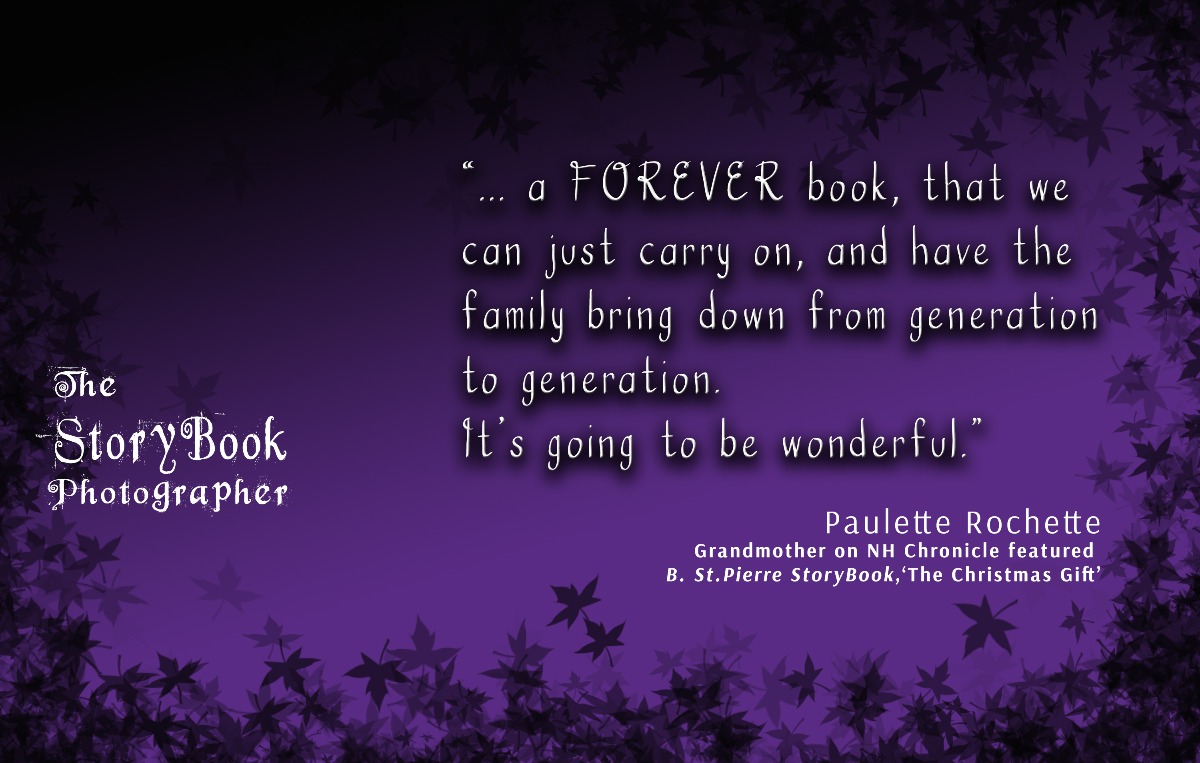 People often think of our press-printed and bound fantasy books of little fairies and pirates, mermaids and princesses, when they think about B. St.Pierre StoryBooks. However, as much fun as they are for Bonnie to create, for she loves to bring the imagination of children to life with her photography and writing, her StoryBooks are definitely not limited to this kind of theme.
For example, one of her books illustrates the magic of Christmas in forming a family where once loneliness and heartbreak lived for each of its members.
Another celebrates the "forever young" spirit of an adult with Downs Syndrome as she acts out her favorite Soap Opera, something she does for her sister every day when they are both home together in the evening.
Yet another is about the many activities that a young child shares with her grandparents, a story that will keep these much adored adults in her life the young and vibrant age that she knows them for today.
Whether Bonnie writes the story or is contracted to create the images for another author's book, the results are rich, beautiful - meaningful.
And ANY of these, or other beautiful human interaction moments, by themselves make for wonderful StoryPAGE or Seasons of Life Portraits.
Imagine a StoryBook, StoryPage or Season of Life Portrait for your family, passed down through the generations!
If you would like to know more about StoryPAGE specifically, click here. The same beautiful imagery potential, with less set and clothing changes, and not in book form, but designed for enjoyment as art for on your walls.
Take a look at our Seasons of Life page of images by clicking here.
If you are looking for an illustrator for a book that you are publishing, click here to read a little bit more about that service specifically, or Contact Us here!
Click here to see more of our images!